According to the National Rosacea Society, rosacea is a skin disease affecting more than 16 million Americans. Rosacea is chronic inflammation, typically of the cheeks, nose, chin, forehead or eyelids. During flare-ups, often small, red, pus-filled bumps will form on the skin. The cause of rosacea is not known, and there is no cure.
Rosacea Triggers
There are certain foods or stresses that may trigger rosacea. Some common triggers are:
Sun exposure
Emotional stress
Hot weather
Wind
Heavy exercise
Alcohol consumption
Hot baths
Cold weather
Spicy foods
The National Rosacea Society has a diary you can download and use to help you discover what lifestyle and environmental factors may be triggering your flare-ups of rosacea. Click here to download the Rosacea Diary.
Gluten and Rosacea
Some people have discovered that gluten and dairy are triggers for their flare-ups of rosacea. They found by eliminating these foods they've found a way to cure their rosacea. People who are intolerant or sensitive to gluten cannot properly digest gluten and this wreaks havoc on the gut which, in turn, affects the skin.
Rosacea and Couperose Skin
I have something called couperose skin – skin that is red with broken capillaries and often feels tight and irritated. My skin often would look flushed or blushing. Skin affected by rosacea can also be couperose, however with rosacea, you also get an acne-like appearance of small bumps.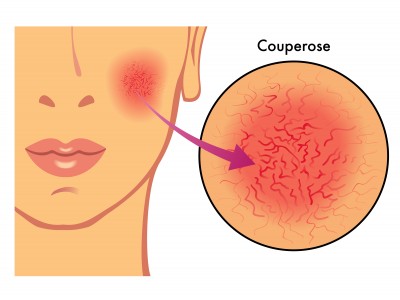 Couperose Skin
Rosacea Treatment
I recently found a natural treatment for my rosacea and couperose. I think I've tried just about everything I could find over the years, so it's pretty funny to have found something to help it purely by accident.
I wash my face with African Black Soap.
Then the product that saved my perpetual rosy reds – a healing oil blend – Innersense Organic Beauty Harmonic Healing Oil. I just love the name of this healing oil – beautiful!
I actually bought it to try on some dry skin. It did wonders on that. But what blew me away was that in less than a week, my rosacea and couperose were almost gone. What??? After everything else I had tried, and here I was, using it for something else and was able to find a remedy for my rosacea.
Here are the ingredients:
Carthamus tinctorius (safflower) seed oil**, oenothera biennis (evening primrose) oil**, calophyllum tacamahaca (1)**, (tamanu seed oil), citrus aurantium amara (bitter orange) flower extract (1)**, olibanum (2), simmondsia chinensis (jojoba) seed oil**, borago officinalis (borage) seed oil***, camellia oleifera (camellia) seed oil**, nelumbium speciosum (lotus) flower oil*, citrus aurantium dulcis (orange) oil**, citrus medica limonum (lemon) peel oil**, cananga odorata lavender flower oil** from organically grown plants  **certified organic ***bio-dynamic Source – (1) Tamanu seeds, (2) Frankincense, (3) Neroli oil.
It smells so incredible, I look forward to using it each morning and night.
Image credit: rob3000 / 123RF Stock Photo  CC Image courtesy of rochellejustrochelle on Flickr